As our children grow up, we delight in taking them for big and little trips - whether it's a weekend at the shore, a week at the mountains, or big family trip to a theme park. When children get to middle and high school, planning family vacation becomes much more difficult - extra curricular activities, sports, dating, after school jobs and teenage angst all create hurdles to enjoying family time longer than dinner together on Sunday evening.
If your family is dealing with these same hurdles, it's time to consider planning a family vacation to celebrate that next big step.
The summer between high school graduation and college is a very important time for families. While kids look forward to becoming more independent, parents realize that a chapter in the story of their family is ending.
Behind the scenes here at Vacationkids, our team often refers to this kind of trip as a "Last Hurrah" vacation. This is because many parents realize that when children go off to college, future family vacations may be very different compared with those of the past. Often parents see this particular vacation as one they've "always talked about doing". It may be an important splurge before time with their kids runs out. Other kids and families may simply want to celebrate big time with those they love and party like it's 1999!
Throwing a huge graduation party for family and friends can be expensive and a ton of extra work. Still, graduates and parents will want to celebrate such a milestone achievement for their family. Instead of throwing a big party along with every other family of graduating seniors, why not plan a group graduation vacation? Smart parents know how to leverage group travel deals for their benefit. Done properly this can be a very memorable experience for the graduate and guests while parents get to relax and enjoy the celebration. Our team at Vacationkids is very experienced at large groups so we can handle all the work so parents don't need to worry. With a large enough group, your family could travel at a huge discount or even free.
So whether your family wants to plan an individual celebration vacation or a group celebration event, parents need to start planning when your teen is in 10th or 11th grade. You'll need time to consult with your travel advisor and budget for necessary deposits. If you're inviting others to join you on your celebration vacation you'll need to send out "save the dates" and give them time to plan their schedules. Plan ahead so that when the Pomp and Circumstance March is done playing, your family can look forward to a new, fun filled adventure.
Where should you go for a graduation trip? There's a world of opportunity waiting for your family and potential guests. Just about any itinerary can be customized for the specific interests of your graduate. There are so many amazing places to visit - truly a fabulous experience exists for every budget and every sense of adventure!
A cruise offers your family the opportunity to explore many different destinations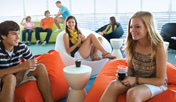 . It's an excellent choice, especially for groups of guests with different budgets. A cruise is probably one of the most affordable vacations for families with teens. Summer cruises are available in the Caribbean, Baja Mexico, New England, Alaska, the Mediterranean and more. Talk about a place your teen has always wanted to visit -- or a place where he or she may practice a language they studied. A cruise is almost all inclusive (there are extras that you can add but you don't have to). Planned properly, parents will know the costs up front, making it easy to stay on budget. With plenty of activities on board, a cruise offers time for the family to spend together and apart.
All-inclusive resorts are just that.
All your meals, drinks (alcoholic and non), resort activities, evening entertainment and tips are all included in the price. There are many beautiful properties throughout the Caribbean - Mexico, Europe and more. Your travel agent can help find the property that is right for your family. Like cruises, all inclusive resorts are also great for group travel events. This is a great option for families and group who are looking for a relaxing place for everyone to chill together. (Remember that most airfare is published about 9 months in advance, so you may book your resort sooner then add flights as soon as they become available to get the best pricing and availability.)
Guided Tours - are an amazing way to experience a new part of the world without worrying about needing to know the languages, customs and roads. VacationKids partners with all of the major tour companies. In addition, we also work with trusted partners whom we personally know and love in many parts of the world, and who help us create those unique, one of a kind vacation experiences that only locals know how to do.
P.S. the Gift of Travel - Some graduates may want to become more independent and explore the world by themselves. It's popular in many countries around the world for teens who have finished with secondary studies to take a "gap year" and travel the world before heading off to university or work. Vacationkids works with a number of guided tour companies that offer these types of independent travel opportunities for students. Minimum age is 18 for these type of packages. Vacationkids can help parents and family create travel gift funds to surprise your graduate, letting them choose their own destination and travel dates later.
Visit a dude ranch for a truly unique yet all inclusive experience. U.S. dude ranches offer so much more
than horseback riding (but hey, that's more than enough for some of us!). Today's dude ranches offer fly fishing, dances, hiking, kayaking, swimming, archery, hunting, crafting, ATV rides, and more. Whether you're a mountaineer at heart or enjoy the serene beauty of an Arizona desert, there's a dude ranch that's right for you.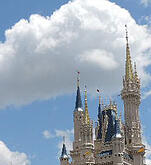 We would be remiss in not pointing out that high school graduates and their families love theme parks as well -- Disney World, Universal Resorts, Sea World, Busch Gardens, Discovery Cove - there are so many amazing adventures to be had throughout the country that we can't list them all here. But we can help you plan great trips to visit them and explore the area around them as well.
Wherever adventure leads your young graduate, trust one of our Vacationkids travel experts to help you plan an amazing celebration vacation to start of the next big phase of their lives.