If you're seeking the answer to this question online, you're probably sorting through hundreds of millions of answers and suggestions. It's overwhelming! And every time you see photos of another all inclusive vacation option that could be a contender, it looks even more enticing than the last one.
There are plenty of all inclusive resorts and cruises out there. Just because you found an article that someone wrote listing the "Ultimate Best Family All Inclusives", it doesn't mean those choices are the ones that are best for your family's needs and vacation wishes.
Here are some tips to help you focus and make the right vacation decisions for your family:
1. Work With An Experienced Travel Agent
In most cases, the cost of working with a professional travel agent is included in the advertised resort prices that you're finding online. If you do all the work and make your own reservations, the resort pockets the profits and you do not get the help, service and important advice you deserve.
Ask your agent if they have visited your preferred destination or resort. Your agent is happy to suggest all inclusive family vacations based on your specific criteria or help you select the best option from your short list. Your travel agent doesn't want to simply sell you a trip. They want to become your trusted travel adviser for years to come.
2. Set A Budget
Family all inclusive resorts "include" all your food, drinks (including alcohol), activities, child care, entertainment, tips, taxes and more. Parents love them because they pretty much know their entire family vacation cost up front without hidden surprises. There may be some extras that you'll need to plan for like outside sightseeing and activities, evening babysitting, flights and other transportation.
Understanding these costs will help you make an informed consumer and help you to spend wisely. Your travel agent can help, even offer free payment plans. Resort prices do vary, especially with the high demand weeks of family travel. Setting a travel budget is important. It will bring you clarity, focus, help you plan efficiently and act confidently. Most important of all, it prevents the dreaded "freak out" when you receive that credit card bill a month after returning home.
3. Consider the Ages of your Children
Every experienced parent knows if the kids are happy and entertained, then parents can relax.
Complimentary kids camps and children's activities are a huge draw when it comes to all inclusive vacations. Will you be traveling with a 2 year old or a 13 year old. A family all inclusive that's perfect for a 2 year old might be a nightmare if you're traveling with a 13 year old. Maybe you need to find an all inclusive vacation that will work for both a 2 year old and a 13 year old. Will an all inclusive resort or cruise work best. Do you need evening activities for the kids so mom & dad can have a night out?
4. Does Everyone Have Valid Passports?
Often an all inclusive family vacation means a trip overseas. This means every member of the family will need a valid passport. This may mean you'll need to apply for passports. If you already have passports be sure to double check expiration dates before you confirm your travel plans. Many countries now require passport expiration dates to be valid for at least 6 months beyond your return travel date.
5. What's Your Family's Definition of "Fun"?
Just like people have their own personalities, so do all inclusives. Some may be more vibrant and active while others are more laid back and chill. Does your family like to be in the heart of all of the action or would you prefer to be "off the beaten track"? Does everyone want time alone "to do their own thing" or is your family looking to spend quality time together. What's more important- WiFi or being unplugged?... A huge waterpark or a gorgeous beach? Understanding your family's travel style will help match you with the all inclusive with the perfect personality fit.
6. Consider Travel Time
How long is your flight to get to a particular all inclusive? How long does it take to get there from the airport? How long does it take to get to outside sightseeing and is this transportation included? Depending on where you live, your final destination, travel costs and the ages of your children these may all be import factors for consideration when choosing the right all inclusive.
7. How's the Food?
Having all your meals included is a huge deal for families and most all inclusives offer a great variety of dining options. If there are foodies in your family then upgrading to a resort that offers farm to table organic dining or Michelin star chefs may be important to the quality of your vacation experience. A resort or room upgrade may come with the perk of premium bar brands.
Does someone in your family has certain dietary requirements, either by choice or by necessity for health reasons? Parents want to choose a resort with a knowledgeable staff who can easily accommodate those special needs. Being able to immerse in local cultures by tasting indigenous foods can be a memorable part of your family's vacation experience. This is an important all inclusive feature for many families while others worry about having the availability of foods and the same dining experiences they are used to back home.
8. The Right Accommodations To Fit Your Family
All Inclusive Resorts and cruises all come with occupancy rules....the number of people allowed to share the same room or cabin. If the maximum occupancy is 4 people and you're a family of 2 parents and three kids then the rules mean you'll need to buy 2 rooms. Occupancy rules also determine pricing. Most resort and cruise pricing is based on "double adult occupancy". If you're a single parent then your child will be require to pay an adult rate. Some parents require "privacy" from their teens in order to enjoy a little "romance". Some parents need a separate room for their little ones who have early bedtimes. Larger families may need more space and extra bathrooms to keep the peace. To have an enjoyable vacation often finding the right floor plan is as important as finding the right resort or cruise.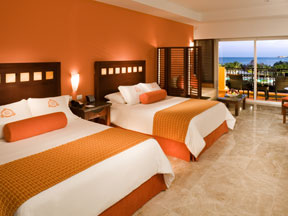 9. Finding Availability
Just because you've found the perfect all inclusive, it doesn't mean it's available. Most families plan their vacations according to school calendars. Summer vacation weeks, spring breaks and the December holidays sell out quickly. This is especially true when it comes to family suites, connecting rooms and other preferred features. At Vacationkids, our mantra is "planning a vacation is just like planning a family, you need to start at least 9 months in advance". Planning ahead not only insures availability but also gives you the best pricing and plenty of time for payment plans.
10. Kids Stay Free Deals
At certain times of the year, some all inclusives will offer "kids free" or "BOGO" deals. Generally you won't find these at those family high season travel times like summer vacation and school holidays. Every once in a while parents can indeed score a deal. More often than not if you do the math, it's a marketing ploy where parents or 1st and 2nd passenger rates are higher to compensate for any savings. In addition, read that fine print. These deals may come with highly restrictive terms. Again, this is where your travel agent can be a huge help determining fact from fiction.
11. Vacation with Peace of Mind
Did you know most U.S. medical insurance does not cover your family when you travel outside of the country? A read thru the fine print for any all inclusive vacation confirmation and you'll find some hefty cancellation penalties. Most flights to get to your vacation destination are non-refundable. If you don't fly you'll be out of pocket for the cost of your flights. What happens if a hurricane or snow storm interrupts your family's travel plans?
Vacations are suppose to be fun but we all know "stuff" happens and usually when we least expect it. That is why it's so important to protect your vacation investment, and more importantly your peace of mind with travel insurance. Travel protection insurance costs less than 10% of the cost of your vacation.
12. Make Compromises Confidently
Life is a lot like that rolling stones song "You can't always get what you want, but if you try sometimes, you get what you need". In a perfect world, everything goes perfectly but family life and compromises often go hand in hand. A week of vacation on your ideal dream beach would require a 15 hour flight with a 3 year old. Your son's idea of fun is zip-lining through the jungle and you hate heights. Grandma has generously offered to pay for vacation but her tastes are very different than yours.
Determining your family's "Wants", "Needs" and "Deal Breakers" will help you make the right vacation choices....and sometimes, compromises may need to be made. A fun family vacation for all is often a matter of making some compromises and setting the right expectations.