Plan The Best Family Destination Wedding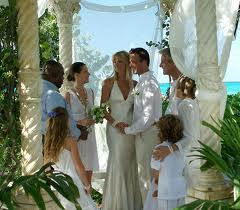 Happily Ever Afters start with Vacationkids.com! We can help you plan your perfect Family Destination Wedding from start to finish.
We know you want all of your guests to feel welcomed at your wedding. Destination weddings with invited children have a particular set of special considerations. We know how to plan an event with the just right balance for all of your guests...relaxation and pampering for the adults along with plenty of fun, supervised care that will keep kids of all ages happy.
If the bride and groom are already parents we can help to start the blending of your two families together in just the right fashion. We listen and find solutions that will make every family member feel special. Our staff can provide elegant, private rooms for parents with adjoining rooms to keep kids safe and close. We understand the legalities involved for kids from divorced families, especially when traveling internationally. We can help arrange a full destination wedding or just honeymoon together with your new blended family.
We understand that a destination wedding is a once in a lifetime event for the both of you.... but certainly not for us. We have the right experience to make your wedding exceptional. Our staff fully understands all the legal requirements, documentation responsiblities and logistics for planning a family destination wedding. Our first hand knowledge and expertise insure that your special day goes off perfectly as planned.
We look forward to hearing your vision for your family destination wedding. We especially look forward to turning your vision into reality for your family. Fill out the form here to the left chedule a consulation with one of our wedding experts today or give our office a call at 610-681-7360 and let's get started together.