Ask Mom
Vacationkids Founder Sally Black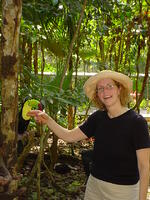 Nice to meet you! I enjoying helping parents to get out and explore the world with their kids...I'm looking forward to doing the same for you.
First, and most importantly, I'm the mother of three grown kids, one son and two daughters. Secondly, I spent 10 years as a maternal-child nurse specialist, delivering babies, taking care of children as well as their parents. I became addicted to the internet in 1994 and changed careers. I worked for five years as the Director of Marketing for one of the very first major online travel site. My career in the travel industry has taken me around the world, often with my children in tow. For many years, I was a single parent but after re-marrying in 1999 we became an instant family of five. Both of these situations create unique challenges when trying to travel with kids. These challenges were my inspiration for creating Vacationkids.com Inc.website and travel agency in 2000. Since that time, I'm proud to say our company has grown exponentially, helping to send thousands of families each year on vacation where they can spend quality time together and create lasting family memories.

Journalists often call on me for travel advice and I do enjoy sharing my experiences and opinions about family vacation travel. I've been interviewed on TV with CNN, Lifetime, ABC and MSNBC just to name a few. I've also been quoted in travel articles published by The New York Times, USA Today, The Wall Street Journal, Consumer Reports, Working Woman Magazine, Newsweek and The Washington Post. I have also enjoyed being a guest expert talking all about family travel on many national talk radio programs.

If you have a questions, please feel free to email me at ASK MOM. I look forward to hearing form you and in the meantime....HAPPY TRAVELS!